Ski Academy Switzerland - Testimonials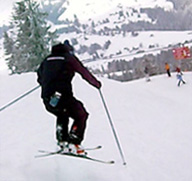 Victoria Wilson
:
PSIA Level 2 2019
Thanks to Ski Academy for all their hard work and patience in getting us there - you're the best!
---
Eve Bell
:
PSIA Level 2 2019
Thanks James for everything, still pinching myself you are awesome!
---
Andy Guest
:
PSIA Level 2 2019
Thanks Ski Academy Europe for all the help. Sign Kim up next!
---
Finn Gundersen
:
USSA's director of education
The Alpine Coaching Courses with SAS is a fantastic opportunity for any aspiring beginner ski coach. The SAS team are some of the most experienced and dedicated professional snowsport trainers in the world and deliver a course that is second to none. With their help you can fulfil your potential and stand the best possible chance of achieving your goals.
---
Sam Holdsworth
:
BASI Winter Programme
After several years living and working in London I decided to take a break and enrol onto a Ski Academy Switzerland course. This was the best decision that I have made in terms of personal and professional gain. I met some fantastic new friends and achieved my goal as a ski instructor. The SAS coaches demonstrate technical skill in a style that is open and friendly to everyone.

---
Ben Weeks
:
USSA L100 Course 2008
I qualified as a USSA L100 race coach in 2008. The course organised with SAS far exceeded my expectations; the resorts, the enthusiasm and experience of the teaching staff and the ability to put into practice what I had learnt via the work experience organised for me really made this course worthwhile. The atmosphere created by the SAS team really helped create a good environment to learn but also to have fun too.
---
Paul Radcliffe
:
PSIA Autumn Programme
Not only do you gain a ski instructor qualification, but you also have the chance to become a ski race coach as well! SAS has many good contacts with local and international ski schools and once we had qualified they found us paid work for the rest of the season! What a perfect way to finish the rest of the season testing out your newly acquired skills. The atmosphere created by the SAS team really helped create a good environment to learn but also to have fun too. SAS is THE place for the best possible start as a ski instructor or race coach.
---
Chris Goldsworthy
: SAS Scholarship Scheme 2007
If you are considering sending your son or daughter on a gap year course then Ski Academy Switzerland really should be top of the pile.
---
Billy Wilson
: PSIA Scholarship Scheme 2007
I just wanted to thank you for the help and support you gave me at the beginning of my Ski Instructor training. I am really pleased to say that I passed my PSIA level 1 and am now a fully fledged ski Instructor!
---
Kay Laundy
: BASI Autumn Programme 2006
In April 2006, I qualified as a BASI 3 Ski Instructor. Whilst you would perhaps expect this to be the highlight of my gap year, it was in fact the 6 months of training with Ski Academy Switzerland (SAS) leading up to this qualification which gave me the most pleasure. Before choosing SAS, I had researched numerous other ski instructor courses; SAS stood apart from the rest. Training in glorious ski resorts across Switzerland, invaluable work-experience at a renowned institution, teaching by top class BASI 1 and PSIA instructors and ex-racers with limitless knowledge and experience are just some of the attributes which appealed to me.
One of the advantages of training with SAS, was the continual contact with our instructors. They were able to get to know us all individually off piste which benefited our training on the slopes. They knew our personalities, our strengths, our weaknesses and what would work for us as individuals. This close contact also meant they were always on hand to answer any questions or queries, plus it had the fringe benefit of getting our skis waxed for free!
---
Ed Lunken
: BASI Autumn Programme 2006
It goes without saying that I would like to reinforce the point that I have found the skiing really top quality over the last few weeks both in terms of the superb instruction and in terms of teaching experience I was able to gather. Many thanks.
---
Julia Raths
: PSIA Programme 2005
"I got to ski in several of the most spectacular ski regions of Switzerland - if not the World (Saas Fee, Gstaad and Zermatt). On top of that I got a sweet taste of what working in the ski industry is like, whilst at the same time meeting amazing people and having an awesome time. If that doesn't sound good enough, how does this sound? Being coached by World-class instructors on a one-on-one basis, improving your personal performance from day to day, mastering mogul and powder runs, learning how to teach others what you already know, or watching someone you taught how to ski go down a red run"